Accommodation
Izmailovo Gamma and Izmailovo Delta Hotels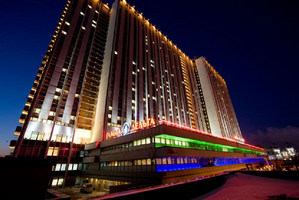 The hotel accommodation for participants of the IUTAM Symposium is offered at the hotels "Izmailovo Gamma"*** and "Izmailovo Delta"****.
Address: 4G-D, 71 Izmailovskoe shosse, Moscow.
The nearest metro station "Partizanskaya" (radial dark blue line). Only 3-5 min walking to the hotel (transfer details).
Web-site: http://www.izmailovo.ru/eng/.
Google map: link.
Reservation is provided by Service Agency Monomax PCO company via your Symposium registration account.
"Izmailovo" ("Gamma", "Delta") is the unique megacomplex in Russia, consisting of 3* and 4* star hotels, more than 15 restaurants with the various national cuisines. The hotels offer high-quality service based on the well-developed service infrastructure "City-within the city," excellently organized technology, and highly qualified staff.
"Izmailovo" not only can accommodate more than 3500 people, providing them with various options of restaurant service, but also has resources to hold seminars, conferences and other events in the conference complex.
The hotels offer 2000 comfortable rooms of various categories from cozy standard rooms to elegant suites.
The hotels has received a TripAdvisor® Certificate of Excellence award.
The hotel "Izmailovo Delta" is named "The best congress hotel category 4 * in Moscow" by Russian Business Travel & MICE Award 2013.
Hotel Services
Concierge service
Post office
Internet-cafe (located in the central hall of the ground floor)
Notary public
free Wi-Fi Internet access on all the territory of the hotel
"Strategiya" Bank branch
ATMs (located in the central hall of the ground floor)
Ironing rooms on each floor
Storage of valuables
SPA-complex "Galatea"
Express American dry-cleaning
Minor repair of clothes
Optician's shop
Pharmacy
Press and souvenirs
Mini-market
Parking
Room Amenities
2 beds or 1 large bed
TV
Total room area: 21 sq.m.
Free WiFi
Hair dryer
Mini fridge
Individual safe
Set of writing paper, pen
Telephone
Electronic locks
Bottles mineral water
Free visiting of the "Marcus Aurelius" fitness center
Terry slippers
Terry bathrobe (only in rooms of "Izmailovo Delta")
Air conditioning system (in all room categories except "standard plus" of the hotel "Izamailovo Gamma", where a fan is offered)
Round-the-clock use of the tea room on a floor with everything necessary for comfortable tea drinking (only for "first class" room of the "Izmailovo Delta" hotel).
OUR IUTAM SYMPOSIUM RATES with discount from the rack rate:
Room category
Single accommodation,
RUB
Double/twin accommodation,
RUB
Hotel "Izmailovo Gamma"***
Standard plus room: renovated in 2013
4700
5200
Business class plus room: renovated in 2012
5000
5500
Hotel "Izmailovo Delta"****
Standard room
5100
5600
Business class premium room
5300
5800
First class room
5700
6200
The above mentioned rates are quoted in rubles per room and night, including 18% VAT and buffet breakfast.
Additionally you can pay 600 RUB per person per a lunch and 570 RUB per person per dinner.
Check-in time is 14:00. Check-out time is 12:00.
If you wish to stay for a few hours after check out time or to check in before 14:00, you should indicate the time in the Comments during reservation and pay additional price.
Hotel reservation
To make your hotel reservation and prepayment please
First register on the Congress web site http://sgs2015.ipmnet.ru/reg.html
Enter your Personal area using your login and password
Click "Hotel Accommodation", make your choice and fill in necessary registration fields, press "Submit"
For double/twin rooms shared with an accompanying person or another participant, please indicate the name of the accompanying person/other participant in the Comment field; we will halve the bill if needed
To find more information about the payment procedure see "Payments" section
Notes
The Symposium Service Agent Monomax PCO ensures the hotel accommodation only if you provide the information on this web site (Hotel Reservation) until May 30, 2015. If the information is given after this date the Monomax PCO has the right to alter reservations in case the preferable hotel is no longer available.
The period of guaranteed reservation is

June 22-28, 2015

. If you'd like to stay before or/and after this period or in the rooms of other categories please contact the manager.
The whole period of your stay in the hotel should be fully paid in advance before May 30, 2015 to guarantee accommodation.
The hotel reservation will be confirmed ONLY after receiving the prepayment or a guarantee letter (for participants from Russia – "гарантийное письмо об оплате наличными на месте на бланке организации").
If for any reason you cannot make your hotel reservation online or have any questions concerning the hotel accommodation, please contact the Symposium manager via e-mail or phone,
E-mail: sgs2015@onlinereg.ru
Tel.: +7 (812) 335 20 55 ext.201
CANCELLATION TERMS:
Information about the hotel accommodation cancellation should be made in written form only and forwarded to the Symposium Service Agency by e-mail: sgs2015@onlinereg.ru
For cancellations received before and on May 30, 2015, the sum of payment will be refunded completely (minus banking costs).
If cancellation is made from May 30, 2015 to your check-in date, the cost of one-night stay and the banking costs will be charged. The remaining part of the payment will be reimbursed.
For cancellation received after your check-in date there will be no refund!
Attractions close to the hotels
Kremlin in Izmailovo (situated in only a few meters from the hotels).
It has already been famous for its unusual architecture and style performed in native Russian traditions for many years. Each building is unique and has its own name and history. When in Kremlin in Izmailovo, you can visit various museums: the Russian Toys Museum, the Bread Museum, the Russian Fleet Museum and etc. However, one of the most interesting museums is probably the Russian Vodka History Museum.
Tsar's Estate "Izmailovo"
The windows of the rooms command a lovely view onto the Izmailovsky Island surrounded with the ring of Serebryano-Vinogradnye ponds. On the island there is the Tsar's Estate "Izmailovo", historical complex of architectural monuments of the 18-19th centuries related to the most important events in the history of the Russian state where excursions and fancy-dress parades rake place.
Izmailovo Park
Near the hotel there is one of the largest city parks in Europe – Izmailovo Park.
The vast territory of Izmailovo Park is designed for walk and entertainment. Apart from numerous amusement rides, such as Ferris wheel, chute-the-chutes, etc., one can ride horses, ride a boat, hire skates and roller-skates depending on the season. In summer time concert programs take place, orchestra plays, and there are performances for children and jazz evenings in Izmailovo Park.
The entrance is free. Promenade area working hours: 24/7